Tours of Egypt Testimonials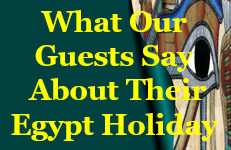 Check out the testimonials and feedback that our guests have given us about their experiences on our Journey of a Lifetime Tours of Egypt. Many of our guests return to Egypt with us because they have enjoyed the experience of being in Egypt with us so much. We strive to share the real Egypt with our guests and not the Egypt that is depicted through the media, and our guests love it.
Why don't you come and join one of our Journey of a Lifetime tours of Egypt for your next holiday. Our Egypt Tours are a little different to other Egypt Tours in the marketplace in that our guests have exclusive and private access to many of the sites they visit. Thus means that they have many of the sites to themselves when they are closed to other tourists. This gives our guests the opportunity to truly experience all the sites have to offer including feeling the strong energy that can be felt at the sites when there are not hordes of people around. We use only the most knowledgeable of Egyptologists who are up to date with the latest information about the sites of Egypt. Our Egyptologists and guides bring ancient Egypt to life and our guests love it.
Many of our guests have been to Egypt with us more than once and many are planning to do so again in the future.
Testimonial From Iris P Darwin Australia Journey of a Lifetime Tour of Egypt Dec 2012
(Iris celebrated her 91st birthday with us in Cairo. Iris taught many of us that age is but a number and we can do anything we set our mind to if we want to do it. Being with Iris on this tour has created memories for me that I will treasure forever…. Rhonnda Fritz)
You Couldn't Be in Better Hands..
What can I say about Rhonnda Fritz!!
We moved interstate a few years ago and we just happened to move into the same street as Rhonnda and I have to say, how lucky I was. I was never a real spiritual person, just a bit fascinated by certain aspects of people like Rhonnda. Oh My god!!! Rhonnda is a person that has this aura, a softness and worldliness about her. You always come away feeling so much more positive in aspects of your life, calmer, healthier and relaxed. Whether it's speaking to her over a cuppa or taking one of her courses, her ability to help you change your life and your outlook on life is nothing short of amazing!
Her ability to help you deal with "CRAP" from the past is just like a big weight has been lifted from your shoulders, (let's face it, we all have "CRAP") and you never think much more about that part of your life, it's been dealt with, it happened, so what!!!! I never ever thought I would be able to honestly leave that part of my life behind, but I have. You know how we always say we're over it, or we put it to the back of our mind, but it's always there and shows its ugly little face every now and then, in the smallest thought or whatever?
Well, if I think of it now, it's so what, and I just move on, without the stabbing in the gut feeling. It's WONDERFUL!
Her knowledge of Egypt and her ability to rejuvenate the mind, body and soul is just fascinating. You have to experience it, to really understand.
Rhonnda has become a dear friend and is an amazing person, anyone who is lucky enough to go on one of her spiritual tours to Egypt or take one of her trainings, I will say you're in for a real treat.
Whether you are going for the sites, the architecture, the spiritual aspects or just to enjoy Egypt in all its glory. You will come back a new person, with a new outlook on life!
Enjoy your tours of Egypt….You couldn't be in better hands, that's one thing I am sure of.
Wendy N Sunshine Coast Qld Australia 2011
Video Testimonial from Wendy N filmed at the Mena House on the 2011 Tour of Egypt
Best Decision We've Made in a Long Time..
Deciding to travel on one of Rhonnda's tours of Egypt was the best decision we've made in a long time. She promised that it would be a trip of a lifetime and she was right. We couldn't imagine seeing Egypt any other way. Peter and Jan J Sydney NSW Australia 2011